Over the weekend my son and I camped at Bonnie Vale, on the fringe of the Royal National Park south of Sydney. The camp ground itself is not exactly a wild place, humans outnumber almost all other creatures, apart from a few raucous bird species. Even so, we share a sharp eye for nature and we accumulated a healthy spotters tally.
A hunting Sea Eagle plunged to the waves as we watched from the cliffs (above). Missing her target, she was chased south by harrying gulls. Ben noticed small claw prints in dried mud and nearby scats, likely evidence of echidnas, balled safely in the undergrowth during the day. That clifftop bush land habitat to a playful colony of New Holland Honeyeaters who refused to pause for a photograph.
On the beach, unexpected cloven hoof prints puzzled us. The mystery solved at dusk when we spied deer, a buck and a doe, grazing discreetly off a bush track. One of our first sights was an assertive, nesting Sulphur Crested Cockatoo driving off a prowling goanna, it being attracted by the meaty aroma of campers BBQ's. Our sketch pads came out after breakfast as two wood ducks browsed the grass around our tent.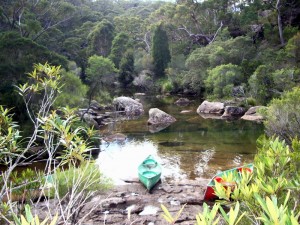 Sunday as we canoed upstream from Audley Weir, again surrounded by weekend humanity, we counted more wild sightings. A eucalypt full of drying cormorants, a pair of turtles sunning on a submerged log, a slow moving goanna creek side. As we lunched at the end of the navigable creek, a pair of intelligent and wary currawongs arrived to share a cracker with us.
Paddling down stream, Ben spotted an eel beneath our canoe, near invisible on the dappled, rocky bottom. And then a splash of azure blue as a darting kingfisher flew low along the water line. Natures reward for our vigilance.
Our father and son camping weekend made me reflect on both my own childhood, deeply embedded in the natural world, and the difficulty for modern children to experience the thrill and beauty of wild places. Particularly living in a large city like ours. I feel there is a vital connection between nature and a rich human life. I believe this even more strongly for anyone wanting to offer leadership into the future.
Recently I joined the Board of The Wilderness Society (Sydney). Whilst I am still finding my way in how to best contribute, I already intuit a role for the organisation in linking children to wild places. What better way to enrich future generations and encourage conservation of the earth which carries us?