Thorin Oakenshield, leader of the dwarven company in The Hobbit, is my namesake. This connection has drawn me to Tolkien's tale in many different ways. Recently I enjoyed watching the epic Peter Jackson film, the first installment of a trilogy, 'living' for nearly three hours in Middle Earth.
Over time I have come to appreciate Bilbo's experience as the classic Hero Journey.
Joseph Campbell wrote about the archetypal cycle in his 1949 book, The Hero With A Thousand Faces. "A hero ventures forth from the world of common day into a region of supernatural wonder: fabulous forces are encountered and a decisive victory is won; the hero comes back from this mysterious adventure with [new] powers." p30.
Bilbo is called to adventure by the Wizard Gandalf. Thrust unwilling and resisting into the company of dwarves, his early steps beyond the safety and comfort of his hobbit hole are clumsy and dangerous. Bilbo survives encounters with trolls, elves and goblins largely through the efforts of others.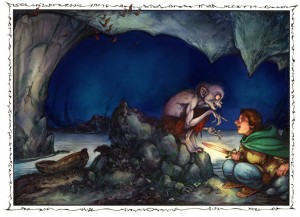 Separated from his companions in the Misty Mountains, Bilbo descends deep into the heart of the range. In darkness he riddles with Gollum and wins a ring of power. From this point onward, Bilbo transforms from victim to emerging hero. Ultimately he is the key to the dwarven companys' success in winning the return of the treasure stolen by Smaug.
I understand Bilbo's riddling with Gollum to represent a psychological struggle with his shadow. Travelling deep within the mountain (into his unconscious) and wrestling with fear or doubt. In winning the struggle Bilbo discovers new powers and strength, represented outwardly by the magic ring.
Like Bilbo, we may need to be nudged into Life's adventure. To cross the first threshold, leaving the security of the familiar and common. Through the trials and struggles we earn new insight and power. This is the timeless human pattern, the Hero Journey, identified by Joseph Campbell in the worlds mythological stories.